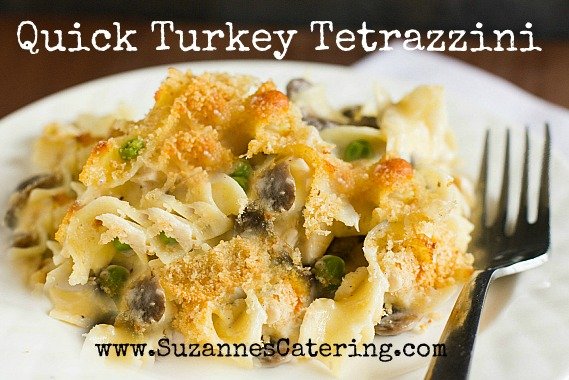 If you're like 99.9% of Americans, there is absolutely always turkey left over from Thanksgiving dinner.
We tested out this recipe and it was fantastic. A recipe inspired by Martha Stewart and Brown Eyed Baker.
Quick Turkey Tetrazzini
1 cup panko breadcrumbs
3/4 cup fresh grated Parmesan cheese, (about 3 ounces)
6 tablespoons unsalted butter, melted
1 teaspoon salt, plus more for seasoning
1 cup chopped green onions
1 1/4 cups sliced crimini mushrooms
3/4 pound cooked turkey, cut into 1-inch cubes (about 2 cups)
1 cup frozen peas, thawed
3 cups homemade or low-sodium chicken stock
3/4 favorite white wine
6 tablespoons all-purpose flour
2 teaspoons freshly squeezed lemon juice and lemon zest
1 teaspoon fresh thyme
Ground pepper to taste
1/2 pound curly egg noodles, cooked according to package directions
DIRECTIONS
Preheat oven to 425 degrees. In a bowl, combine panko breadcrumbs, 1/4 cup cheese, and 3 tablespoons butter. Season with salt; set aside.
In a medium saucepan over medium-high heat, toss 1 tablespoon butter with onion, mushrooms, and 1 teaspoon salt.
Cover; cook 3 minutes. Remove lid; cook, stirring, 3 minutes more.
Transfer to a bowl; add turkey and peas. Set aside. In same pan, whisk stock, remaining butter, and flour.
Bring to a boil; reduce heat to a simmer. Whisk until thick, 4 to 5 minutes. Remove from heat; stir in lemon juice, thyme, and remaining 1/2 cup cheese.
Season with salt and pepper. Combine sauce, turkey, and noodles in a 9-by-13-inch baking dish; top with breadcrumbs.
Bake until golden and bubbling, 13 to 15 minutes. Serve warm.