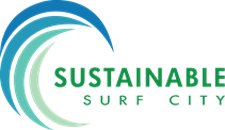 The City of Huntington Beach developed the Sustainable Surf City program in an effort to eliminate energy waste and utilize cost-effective on-site renewable energy. The program is designed to protect the quality of life through sustainable development while improving the bottom line performance of the business community and city's operations.
Sustainable Surf City program is a 12-month environmental sustainability outreach program for 15 small businesses and two schools in Huntington Beach.
Suzanne's Catering did a a complete environmental audit that focused on energy, waste, water and transportation, followed by recommendations to improve each area. We then participated in monthly workshops and go through training for Sustainable Business Management Practices.
The Sustainable Surf City Program won the Sustainable and Green Development Award from the Orange County Business Council 2012 at the Turning Red Tape into Red Carpet Event.
Fore more details and up to date news on Sustainable Surf City, visit facebook.com/SustainableSurfCity.